Dynamic Transition Year Programme
Transition Year
The Cistercian College Roscrea TY Transition Year Programme  is a bridge between the Junior and Senior cycles. The programme has evolved, reflecting the changing approaches to education and the developments in the College's curriculum, as well as the unprecedented advances within the scientific and technological worlds. Now the College has added extra dimensions, enhancing this unique experience as an invaluable preparation for the Leaving Certificate Programme and entry to Third Level education.
The Transition Year TY Programme at Cistercian College Roscrea is intended to prepare students for Senior cycle and also to provide educational experiences to enhance their personal development and decision making. Research carried out by the National Council for Curriculum and Assessment [NCCA] clearly indicates that in the Leaving Certificate examination students who followed a Transition Year course outperformed those who did not.
Placing a strong emphasis on encouraging personal development, self-esteem and maturity, the Transition Year programme promotes self-directed learning and increases the students' social and personal awareness. It also aims to extend each student's range of interests and skills and promote interpersonal skills with a view to preparing them for life.
There are several different strands to the Cistercian College Roscrea Transition Year Programme which weave together to form a unique experience. As a boarding school, our students have the opportunity to broaden and develop their minds and horizons during class time and also in the afternoons and evenings, through a wide spectrum of experiences. The six hours of class contact time are complemented by an exciting and extensive programme of extra-curricular activities focusing on environmental awareness, personal development and confidence building.
Our Transition Year Programme has made a positive difference to our community through some amazing projects including the building of the outdoor classroom in the walled garden as seen below. This project received national recognition as highlighted in this article RTE article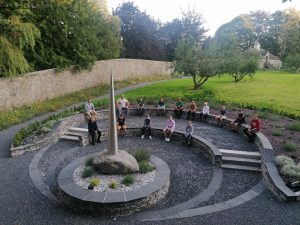 Another facet of this great programme are the entrepreneurial skills that are taught to our students through the enterprise project. We have boys who create incredibly innovative and profitable businesses through this programme, an example of which you can see in the video below.