A well-regarded and highly-competitive sports program.
Cistercian College is unique among secondary schools in that its teams compete at a high level in both Hurling and Rugby.
The extra-curricular activities on offer at Cistercian College are very extensive. We have a responsibility to keep students busy in their downtime, and this means that students have numerous opportunities to get involved in new hobbies, thereby developing non-academic skills that are valuable for the real world. What's more, they take part in these activities without interfering with their classes or study.
Rugby
Each year Cistercian College fields ten rugby teams including four in Senior House (TY, 5th & 6th years). The Senior Cup Team has been rated among the top teams in the country in recent years. We also run a senior seconds (SIIXV) and senior third (SIIIXV) team every year, as well as a Transition Year rugby competition. The Junior House programme runs six teams, focusing mainly on developing the core skills essential for a successful transition to SCT Rugby. Each year there are two Junior teams along with two 2nd year and two 1st year teams. All teams have dedicated coaches and play a minimum of 20 matches per season.
Students who play Rugby have a minimum of three coaching sessions per week and one match per week. They also have at least one strength and conditioning session per week. Cistercian College students also have access to the Elite player sessions and get the benefit of the latest video analysis equipment. There is an annual Rugby tour. Our players have the support of the on-site college medical and nursing staff and have access to top physiotherapists, sports psychologists and guest coaches.
CCR Rugby Review 2019
SCT/S2
Our Senior squad of 45 had such an adventure this season. The boys had so many highs and a few lows but overall they can look back on their year with pride and enjoyment. The League ended at 1/4 final stage to eventual winners Gonzaga. Our Cup campaign ended at the hands of Belvedere. A slow start costing us, in what was an otherwise brave performance. The season would end on a high after an excellent win over St Gerards in the Plate Final. Just reward for a group of boys who have given much more to the College than could be expected. The Tour of Ipswich was a good bonding experience. The boys developed with Sports Psychologist Jason Wycherley and guest coaches such as Shane Delahunt. Our second squad won all but one game, pointing to a bright future. Overall a great season. One to be proud of, onto bigger and better challenges knowing you have left a legacy. Thanks to coaches Alan Tynan, Darin Classen, Tyrone Elliott and Michael Harding
S3/ TY
Our senior thirds put together a strong cup campaign. There was a strong group performance which saw us top the table. A semi-final against St. Marys was our undoing. A game that could have been won but again loads to build on and lots of talent coming through.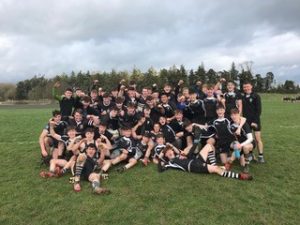 JCT/ J2
Our JCT side showed the value off fighting spirit. A tough league campaign, followed by heart-break in the Cup. The boys could have packed it in but instead they kept training, kept learning and developing. Their season was to end in delight as they put in the performance of their season to win the plate against Kings Hospital in Donnybrook. The boys would have learned loads from their coaches Rob Dempsey and Ray Moloney and guest coaches such as Alan Tynan and Fineen Wycherley. A squad of close to 40, all pushing each other along. Enjoying the game for the game itself and getting their rewards for doing so.
2nd Year
Our second years showed great promise this year. The culmination ion a good season was Silver-wear in the hotly contested James Morrow Trophy. Next season will see stiff competition for places. A rising tide for our coaches Mr Dempsey, Mr Moloney and Mr Kennedy. Watch this space……
1st Year
Our first years are as always our pride and joy. Mr Fitzpatrick and Mr Kennedy treat these boys the same as Mr Schmidt treats his boys. Love of the game and loads of learning. The team did well, beat most, lost a few, a healthy balance. A trip to Belfast where they combine learning and rugby was a highlight. The visit of the Heineken Cup to sow the seeds was another worthwhile outing. The year ended with the All-Ireland tournament, a semi final defeat is probably an accurate placing. Top 4 but loads of improving to do.
Inter-provincials and Internationals
Another fruitful year for our boys on the provincial and national stage. We had 3 at the U-20 World Cup. Milne, Wycherley and Clohessy all flying the flag proudly. Ronan Loughnane worked his socks off to earn his call up for the Irish U-18 team also. The interprovincial scene was as busy as ever. Shane Connolly, Gavin Meagher and Ronan Loughnane all played Leinster U-18. Shane Mallon and Billy Burns on the Leinster U-18 programme with the hope of the same honour ahead. Lucas Culliton and Diarmuid Kilgallen enter the Connacht Hot House Programme as they prepare for life after schools rugby. Dylan Keane and Martin Fallon will hope to wear the green of Connacht over the summer also. Good luck to all and the many boys who will train with their U-17 interprovincial squad over the summer.
Hurling
Hurling in Cistercian College Roscrea is given equal importance.
Our last All-Ireland winning team was 2015. We have competed in several recent Leinster Finals. We pride ourselves on offering Hurling coaching all year round, unlike many schools that base training only on competition. We run 7 teams in the College from 1st year to senior. It is the ambition of the College to get back into the top tier of Leinster Hurling and capture a first All-Ireland 'A' Colleges title. The Hurling timetable in CCR consists of 4 sessions a week. We run 3 Hurling skills sessions a week, including one match, and one supervised conditioning session. The college has access to top of the range video analysis to develop the team and individual. We also run Hurling alley tournaments and indoor Hurling sessions. This is all achieved with the minimum effect on the academic timetable.
Many of our pupils are selected to represent their county, province and County at minor and under 18 level in Hurling and/or Rugby.
CCR Hurling Review 2019
By Brendan McKeogh
The 1st and 2nd years fielded 3 teams this year with a very profitable return for their commitment. There were wins in the Leinster U-14 1/2 and Tipp U-15 while the 1st years were only defeated in the final. Well done to the panel of over 30 boys who completed over 50 sessions and 20 matches over the course of the season. Thanks to the coaches Mr McKeogh and Mr Carey for their work also.
 U-14
We captured our first provincial title at this age group for many years. The squad topped their group after going undefeated in their group games against Rathdowney, Portlaoise, Trim and Rochfortbridge. The final was a tight affair against St Fergal, Rathdowney. Some great hurling was played by both schools before CCR emerged victorious. Well done to the panel of 30 players who trained hard all year.
U-15 
Our U-15 side captured the U-15 title in style this year. Group stage wins over Carrick CBS and Rockwell College earned a final against St Josephs Borrisoleigh. CCR had to fight very hard against a skilful Borrisoleigh side to finally capture the County title. Again a huge panel effort over the course of the season and thanks to the coaches for their time.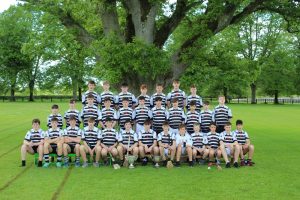 1st Year
The First years had a very successful season, getting to the Leinster final for the second year in a row. The boys had to overcome Rochfortbridge and Killina to earn a place in the decider against Wexford CBS. The opposition were very strong but CCR made them fight all the win before eventually going down by a narrow margin. All the boys played a role in all the games which was great to see. The boys will move up a grade next year where we hope to continue our progress through the grades.
We field 3 teams in Senior house. Thanks to Mr Quigley and Mr Franks looked after the boys on the U-19 (Senior), U-17, and U-16 1/2 (Junior) teams.
Senior
Our Seniors were very competitive in the Leinster Championship. All-Ireland champions Tullamore defeated CCR in the opening round in a competitive game. CCR then defeated Heywood in Round 2. Round 3 was a winner takes all clash against Mountrath. Mountrath ran out deserving winners on the day and unfortunately CCR exited the competition. In the Barry Nash Memorial CCR qualified for the final after a victory over Killina. In the final Scariff proved too strong and captured the trophy for the first time. Well done to all the boys who represented our senior side this year and we look forward to next years competition already.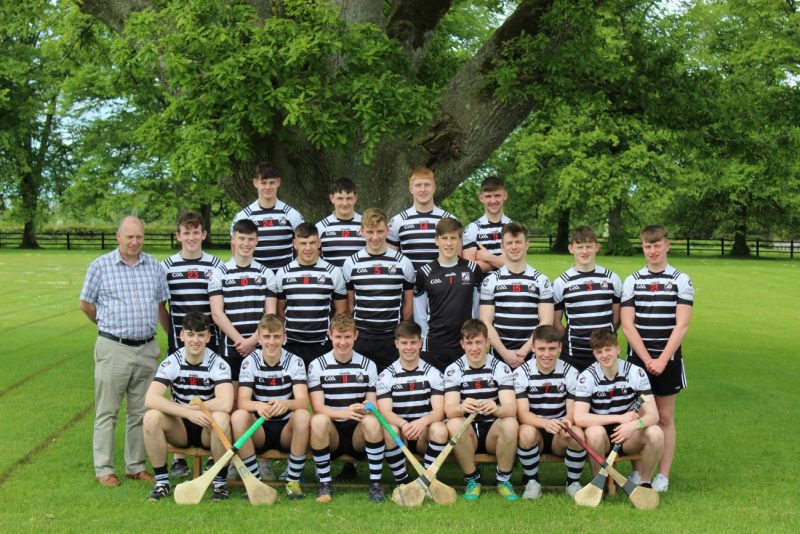 U-17
In the Tipperary schools U-17 competition CCR defeated Comeragh College in the quarter final by 2 points. Carrick CBS proved too strong for us in the semi final of the competition and we exited at this stage.
Junior (U-16 1/2)
Our Juniors had a tough campaign. Defeats to Rathdowney and Portlaoise put the boys under pressure for a result against Killina. The boys produced a great performance to defeat Killina and qualify for a quarter final. Rochfortbridge proved too strong for us in this game and they progressed at our expense. This was a young side and we would be very optimistic that better days lie ahead next year for this group.
Golf
Our Golfers were arguably our major success story of 2018-19. Our Senior Golf team finished Runners Up in the Leinster Golf Matchplay Championships. The team of Captain Stevie Ryan, Ben Murphy, Matthew Barry and Ben Whelehan beat off competition from over 90 schools to reach the final. Nass were too strong on the day but what a fantastic year and potentially our greatest ever golf team have certainly left their mark in the schools history. We also competed in the Senior and Junior Strokeplay championships this year. Although we didn't reach the same heights as the senior team, the future of Golf in CCR is very bright. Well done to Sam Murphy who continues to shine as he competes in the amateur opens around the country. Sam is a member of Irish U-18 squad and is representing the College with great distinction.
Lessons
We continue to grow our golf programme through the expertise of our Golf Coach Bobby King. Bobby takes a group of 10 golfers for 2 blocks of 8 weekly lessons before and after the Christmas break.
Athletics
Cistercian College has a proud tradition of Athletics, ranked 3rd in the most successful athletics schools in the country. We encourage both beginner and team athletics. Athletics is compulsory for our 1st years. They are guaranteed one hour with the track coach and the field coach every week. This develops their interest in Athletics and helps them to choose events that match their physical abilities. Out CCR Team Athletics programme grants one hour with a specialist Track or Field coach to allow continuous development over the season.
We compete in the indoor and outdoor competitions in South Leinster and Leinster Championships. We also enter in the Tipperary schools competitions. We are developing our Cross Country programme and this is going from strength to strength each year.
CCR Athletics 2019 Annual Review
By Brendan McKeogh
An exceptional year for our Athletes as we cemented our position as one of the top athletics schools in the country. Highlight of the year has to be the Senior 4 x 100M who captured silver in the All-Irelands. Special mention to Sean Frawley who won All-Ireland bronze in the shot. Both Sean and Lorcan Mullen had the honour of representing Leinster in the Tailtean games which is a huge achievement. Congratulations to all our Junior athletes who won the South Leinster Team of the Year, with special mention to Greg Fitzgerald and Max Flynn who went on to compete in the All-Irelands.
All- Ireland Athletics Results
Senior 4 x 100M Relay: 2nd
Inter Shot: Sean Frawley; 3rd
Inter Hammer: Sean Frawley: 7th
Junior High Jump: Greg Fitzgerald: 5th
Junior Hammer: Max Flynn: 7th
Leinster Athletics Results
Senior 4×100 Relay: 2nd
Inter Shot: Sean Frawley: 2nd
Inter Hammer: Sean Frawley: 2nd
Inter 3000M: Lorcan Mullen: 4th
Junior High Jump: Greg Fitzgerald 3rd
Junior Hammer: Max Flynn: 3rd
Junior Hammer: Aodan Kirwan: 8th
Junior Discus: Jack Powell: 8th
Junior 800M: Richie Whelan: 9th
Minor 500M: Robert Dunne: 5th
South Leinster Athletics Results 
Senior
(Championship Record) 4 x 100M Relay 1st (Championship Record)
Adam Dunne 100m, 3rd
Intermediate
Lorcan Mullen 3000m 1st
Sean Frawley Hammer 1st
Sean Frawley Shot Putt, 3rd
Joe Dooley McInerney Long Jump, 7th
Jack Verling Discus 4th & 200m heat 4th
U-16
4x300m Relay 4th
Caleb Faughnan Mile, 8th.
Canice Crosby 200M 4th
Junior
South Leinster Junior Overall Team Winners
Max Flynn Hammer: 1st
Aodan Kirwan Hammer 2nd
Jack Powell Discus 2nd
Greg Fitzgerald High Jump: 2nd
Richie Whelan 800M 2nd
Junior Relay: 3rd
Harry Duffy 80M Hurdles 3rs
Jack Powell High Jump 5th
Rob Roe Triple Jump : 6th
Robbie Tynan: Discus 6th
Max Flynn: Shot 6th
James Liffey: Long Jump: 8th
Caleb Schofield: Long Jump 8th.
Minor
Rob Dunne: 500 M 2nd
Sam Browne: Shot 6th
Pat Barnwell Mulholland: Shot 7th
Josh Powell Javelin 5th
Noah Heavey:Javelin 8th
Josh Powell 800M 10th
Benjamin Destremeau: 800M 19th
Minor Relay: Heat
Rob Murphy 100m: Heat
Raef Donnelly 500m 8th
Brian O Rourke Minor 100m:
Equestrian
We had 2 pupils represent Ireland this year in the World Pony Championships. Well done tot John Nolan and Caleb Schofield who John Nolan who did their families and school proud.
Soccer
Our soccer programme continued to grow this year as we added an U-15 Cup squad and 1st Year squad to our U-17 squad. Our U-17 team participated in a Leinster league and Cup. Although there was no silverware the group were very committed to training and played 6 competitive games aswell as friendlies. Our U-15 side entered into the Cup competition and we hope next year that we can extend their involvement. At the end of the year our 1st year side took part in friendlies and got some good results, showing the promise thats coming through in Junior house. Thanks to coach David Carney for his work over the year.
Basketball
Our Basketballers had a baptism of fire as they re-entered the Midlands Basketball competitions. We had 3 team entered in competitions at Senior (U-19), Junior (U-16) and 1st year level. The boys did fantastic at all levels and came away with one Leinster title.
Senior
Our seniors were exceptional this year with their approach to training. Led by Cian Quinn, the boys really enjoyed their participation in competitions and friendlies. Although there was no silverware, the team really developed and the year progressed. The future is bright for next year as the entire squad consisted of 5th years and TY's.
Junior
The Juniors had a great season and surprised many as the competition new-comers went all the way to win the Midlands final. The squad topped the group of 5 before going on to play Kilbeggan in the semi-final. A tough encounter but the victory gave our boys great belief that a finalnwin was possible. The final was a dramatic affair against Athlone CC. The squad drew on all their experience over the year to record a 2 point win. Well done to all.
1st Year
The 1st years had 2 competitions. The entry into the 1st year competition saw over 20 boys get game time and involvement in a new sport for many. There were both wins and losses in the group stage. The boys then entered a plate competition and got all the way to the final where they came out on the wrong side of a 2 point game. A very enjoyable experience and great exposure to the game for so many over the course of the year.
Badminton
Badminton was re-introduced to the extra-curricular activities this year and our U-14 team had a great season. The team of 4 travelled to the Midlands finals and came away with a very credible 2nd place. The team won a group consisting of 5 schools to qualify for the Midlands final. They were beaten in a very competitive final by Kilcormack.
In the Leinster finals the boys had 3 games. Despite losing 2 games, they were very competitive and learned a lot form the visit to the National Badminton centre.
The success of the programme this year will hopefully see the demand to enter teams in U-14/ U-16 and U-19 competitions next year. The boys trained 2 days a week in school and deserved their success due to their diligent approach to training. Well done Harry Madden, Sam Wlash, Robert Gunnell and Alex Moloney.
Sailing
For the first time ever the CCR sailors took to the water in competitive action. The team of Niall O Sullivan, Aodan Kirwan, Conor Flynn and David Purcell took part in the St. Gerards Regatta. The boys enjoyed their day out and we hope this will be the start of a successful programme of competitive sailing in CCR.
Tennis
Each year we host our own internal Tennis Competitions. The Senior's compete for the Senior Cup while the Junior's compete for the coveted Eddie O Sullivan Cup. We had over 40 juniors take part this year as the competition ran over 2 weeks. Peader O Muiri retained his title, overcoming a strong challenge from Harry Madden in the final. The peerless Manus Heenan captured the Senior Cup for his second year and looks odds on for a hat-trick next year unless any new challenge comes out of the woodwork. Stevie Ryan was the losing finalist this year and did well to push Manus in the final.
Next year we hope to enter provincial competitions again. If interested, contact Brendan McKeogh.
Handball
Well done to Sean Treacy who participated in Leinster Handball Championships this year. Sean flew the CCR flag with pride in a sport where CCR have a strong link, mainly through Seans' club in Scariff. If anyone is interested in participating next year we would be delighted to facilitate  their involvement and hopefully continue to grow the sport next year.