One of Ireland's leading secondary schools for Sport
Cistercian College has an exceptional offering and performance record in terms of delivering team and individual sporting success across a wide range of sports.
The College has invested heavily in it's Sports programme and facilities during the pandemic period, now boasting an offering that is at the cutting-edge of the Irish secondary school sector.
Our ambition is to provide an environment where our pupils can expect and "believe in more". We build on the rich sporting tradition of the College by delivering a modernised,  high performance sports programme that focuses on health, wellbeing and lifelong participation for all. The College's values of Character, Community and Respect, plus Commitment and Self-Development underpin all interactions in the College sports department.
Strategically, our overriding objectives are twofold…to target both high participation and high performance, whilst staying true to the College's mission of being 'A Place To Grow'.
Below is a brief overview of the many key elements that makes Cistercian College a unique place for both competitive and participative athletes to grow:
Long Term Athletic Development Programme (LTAD)
The College Sports Department, under the leadership of Director of Sport Mr. Brendan McKeogh, identified in early 2020 the opportunity to develop and deliver a framework for the long term sports and physical development of all our College students.  A key step in making this a reality was the hiring of our Direct of Athletic Performance Annie McCarra, who oversees a best-in-class programme which is focussed around ensuring that every student attending the College receives a balanced, individualised focus that will deliver clear long-term wellbeing and physical resilience benefits for all our pupils as part of a 'sport for life' holistic approach. Included in the programme are player-specific, age-based training programmes, ongoing physical assessments, tracking of training loading and wellness.
Facilities 
Our students and coaches have access to top sports facilities including:
4 x Rugby Fields
2 x Hurling Fields and 2 x 3G Hurling Alleys
Indoor Trackman Golf Simulator, Putting & Sand Bunker Practice Area
3 x 3G Tennis Courts
3G Multi-Games Area
International sized Basketball Court
Junior and Senior Gym
Games Room
Video Analysis Lab
Heated Swimming Pool
Rugby
Cistercian College has a rich tradition in schools rugby at provincial and national level.
The College won the Leinster Schools Senior Cup in 2015, having appeared in the Final 5 times (3 times in the last decade) and is the third largest provider of Irish underage internationals (22 capped players) in the same period. As well as having past pupils in all 4 Irish Provincial Academies, we have a number playing pro rugby across Ireland and the UK in the URC, plus the English Premiership & Championship. Some of our full senior Irish internationals include in the 1970s Dick & Donal Spring, the 1990s Ben Cronin and the 2000s Gavin Duffy, Tiernan O'Halloran & more recently Fineen Wycherley.
Each year Cistercian College fields ten rugby teams including four in Senior House (TY, 5th & 6th years). As well as a Senior Cup team, we also run a senior seconds (SIIXV) and senior third (SIIIXV) team every year, as well as a Transition Year rugby competition. The Junior House programme runs six teams, focusing mainly on developing the core skills essential for a successful transition to SCT Rugby. Each year there are two Junior teams along with two 2nd year and two 1st year teams. We have a strong team of coaches, 2 for each rugby team. These coaches include a Performance Analyst, Skills coach and a 1st/ 2nd year coaching co-ordinator.
Students who play Rugby have a minimum of three coaching sessions per week and one match per week. They also have at least one strength and conditioning session per week. Cistercian College students also have access to the Elite player sessions and get the benefit of the latest video analysis equipment. There is an annual Rugby tour. Our players have the support of the on-site college medical and nursing staff and have access to top physiotherapists, sports psychologists and guest coaches.
As part of our commitment to player welfare in our rugby programme, we recently announced a partnership with leading Irish sports tech company N-Pro that will see all 1st and 2nd year players wear high spec N-Pro head guards, that have been tested with World Rugby, as part of all their training and match day play. Read more about the partnership here.
Hurling
Hurling in Cistercian College Roscrea is given equal importance.
Our last All-Ireland winning team was 2015. We have All-Ireland, Leinster and Tipperary hurling titles and guarantee 2 hurling sessions a week for the academic year. We pride ourselves on offering Hurling coaching all year round, unlike many schools that base training only on competition. We run 7 teams in the College from 1st year to senior. It is the ambition of the College to get back into the top tier of Leinster Hurling and capture a first All-Ireland 'A' Colleges title.. We run 3 Hurling skills sessions a week, including one match, and one supervised conditioning session. The College has access to top of the range video analysis to develop the team and individual. We also run Hurling alley tournaments and indoor Hurling sessions. This is all achieved with the minimum effect on the academic timetable.
Many of our pupils are selected to represent their county, province and County at minor and under 18 level in Hurling and/or Rugby.
Golf
The College has made a significant investment in it's Golf programme, with the aim of becoming the top Irish secondary school in competitive golf. Under the direction of our Director of Golf & PGA Professional Bobby King, Cistercian College students have access to either an Elite or Participation pathway, with unparalleled facilities including our indoor Golf Room with Trackman technology, indoor putting green and bunker, plus extensive playing opportunities on top local golf courses.  For more information, see an overview of our high performance golf programme here and keep an eye out for our taster events including clinics and residential coaching camps during key holiday periods (see our leaflet here from our pilot  residential golf camp in August 2021, which was a great success).
Recent Cistercian College graduates who have excelled in national golf competitions include Sam Murphy, who won the Irish Boys Championship in 2020 and is now on a golf scholarship in the US at Grand Canyon University in Arizona. Read more about Sam on our blog here.
Athletics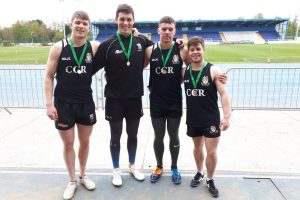 Cistercian College has a proud tradition of Athletics, ranked 3rd in the most successful athletics schools in the country. We encourage both beginner and team athletics. Athletics is compulsory for our 1st years. They are guaranteed one hour with the track coach and the field coach every week. This develops their interest in Athletics and helps them to choose events that match their physical abilities. Out CCR Team Athletics programme grants one hour with a specialist Track or Field coach to allow continuous development over the season. Our focus on specific Athletic events like Hammer, Shot and Pole Vault has seen us maintain our place as a top 5 Athletics school in the country and by twinning with Templemore Athletics Club, our athletes  have the use of exceptional training facilities.
We compete in the indoor and outdoor competitions in South Leinster and Leinster Championships. We also enter in the Tipperary schools competitions. We are developing our Cross Country programme and this is going from strength to strength each year.
Basketball
Basketball is one of our fastest growing sports and is a key strategic sport for investment in the College's strategic plans for sport. Our programme at all levels has gained promotion, after only 2 years back on the sports schedule. We plan on continuing to develop our coaching resources, use of sports technology and deliver taster sports camps for Basketball as the next phase of our development.
Soccer
Our soccer programme continues to grow, with representative teams at 1st year,  U-15 and U-17 levels.
Equestrian
The College runs regular equestrian lessons at a top local training centre plus our teams and individual representatives have had significant success at regional, national and international competitive levels.
Other Sports
Other key sports in the College include Tennis, Badminton, Swimming, Sailing & Handball.