Since returning from midterm break, cast, chorus and stage crew have been very hard at work preparing for our annual musical. This year's production is 'All Shook Up!' a new musical based on the chart topping hits of Elvis Presley. Set in1950's America, All Shook Up tells the story of the 'Roustabout', Chad (played by 5th year Darragh Conroy), who has just been released from prison and arrives into a little town where music, dancing and partying has been outlawed by Mayor Matilda (2nd year Charlie Whelehan). Using his vast and worldly experience with love and his penchant for music, Chad sets about bringing some life and energy back into the townspeople and changing the lives of mechanic Jim (played by 5th year Oscar Gilligan), his daughter Natalie ( 1st year Conor Mulrooney), geeky Dennis (5th year Cuan Culliton), bar keep Sylvia ( 2nd year David Purcell), museum owner Miss Sandra (2nd year Adam Stanley) and young lovers Dean (3rd year Paddy Gormley Collins) and Lorraine (2nd year Virgile de Maepeou).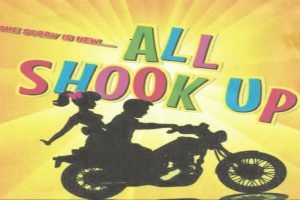 Filled with new musical arrangements of classic pop tunes and fabulous choreography and direction from our new director Ms Kirsty Ryan, the show promises to be one full of energy, warmth and colour.
The show will be open to the public from Monday 18th to Wednesday 20th at 7:30pm. The final show, open for parents and family only, will take place Thursday Nov 21st at 7:30pm.
The musical production team of Mr William Cullagh and Ms Aoife O Neill are extremely grateful for the support from parents and staff while they prepare for the next 2 weeks. They are dealing with a cast and crew of over 120 students so it truly is "all hands on deck".
We look forward to seeing you all during the run and hope for a full house every night!