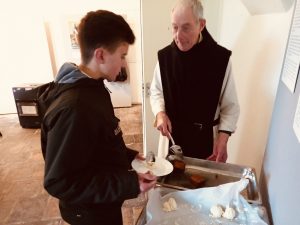 Our TY international boys enjoyed a guided tour of our monastery grounds on Tuesday morning. Thanks to Mr. Paddy Smyth for taking the time to accompany the students on a walk which included both the prayer path and the esker.
It was a fresh, misty morning outside but the boys soon warmed up with the smell of freshly baked brownies and ice-cream when they returned to the Guesthouse.
They were greeted by Fr.Aodhán who served them the homemade treats. On that same evening our chefs Noel and Siobhán taught the boys how to make Spanish omelettes, crepes and Christmas cookies. This gave them a little taste of home and they sat together and sampled their "efforts" afterwards in the kitchen. All in all they had a great day. Thanks to Catherine Scott for organising the cookery class.