The Silver Medal Public Speaking competition took place on Tuesday 21st May in The Recreation Hall of the College.  The following third year students took part in the competition, Peter Collins,  Cuan Culliton, Callum Mac Entire, David Mulroney, Niall O'Sullivan and Jack Verling.
Eac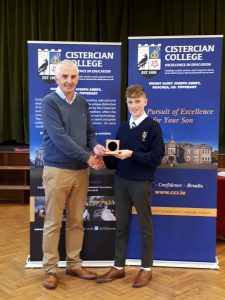 h speech was of a very high standard, which made adjudication very difficult. However, Callum Mac Entire emerged as the worthy winner speaking in favour of the motion "Social networking sites have had a predominately negative impact on the lives of teenagers".
All of the participants must be congratulated for their hard work and efforts which were ongoing for many weeks. In addition thank you to our adjudicators Mr. John O'Meara, Mr. Brian Lynch and Ms. Anna Hackethal.