On Monday night of last week the College held its annual sports awards ceremony in the recreation hall.
The Principal, Mr. Grealish, gave the opening address during which he thanked all of the boys for their participation in sports throughout the year and highlighted to them how sports improves all of our wellbeing. He encouraged them to keep active and to participate in sports over their summer holidays.
He thanked all of the coaches for their work in motivating the teams and developing their skills throughout the year. He thanked Mr. McKeogh for co-ordinating all of the fixtures for what is a growing sports curriculum; this year the College competed in both basketball and badminton for the first time. He also thanked the nurse for availability travelling to all of the matches and dealing with all of the in injuries in such a professional manner. Finally he thanked the students for representing the College in such a positive manner in all of their sporting events  and he wished the athletes every success in their upcoming All Ireland event.
Mr. Grealish delivers the opening address.
International Sportsperson of the Year Yann Belthe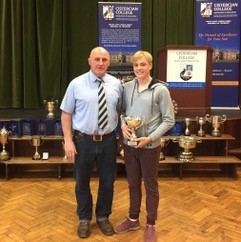 Basketballer of the Year Cian Quinn
Handball Merit Sean Treacy
Equestrian Merit John Nolan & Caleb Schofield
Soccer Player of the Year Robert Roe
1st Year Rugby POTY: Jack Powell (Accepted by Josh Powell)
1st Year Rugby Most Improved: David Purcell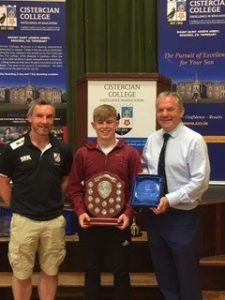 JCT Rugby POTY: Blaine Barry
2nd Year Rugby POTY: James Conroy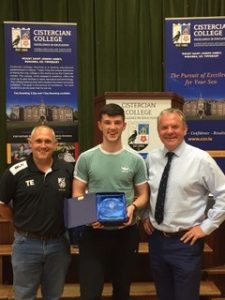 TY Rugby POTY: Eoin Matthews (Accepted by Jack Matthews)
SIII Rugby POTY: Adam Lambkin
SCT Rugby POTY: Gavin Meagher
International Rugby Merit: Ronan Loughnane (Ireland U-18) 
Minor Athlete of the Year: Robert Dunne
Inter Athlete of the Year: Sean Frawley (Accepted by Conor Frawley)
Junior Athlete of the Year: Greg Fitzgerald
Senior Athlete of the Year: Senior Relay Team ( Darragh Loughnane, Diarmuid Kilgallen, Lucas Culliton, Ben Murphy)
1st Year Hurler of the Year: James Liffey
Juvenile Hurler of the Year: Fabien Fleetwood
U-15 Hurler of the Year: Jack McGrath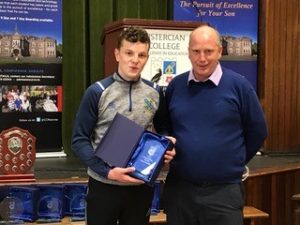 Junior Hurler of the Year: Jarlath Connolly
U-17 Hurler of the Year: Shane Mallon
Senior Hurler of the Year: Sean Clancy
SII Rugby POTY: Bill Burns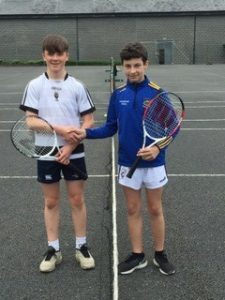 Junior House Tennis Champion  Peadar O'Muirí and runner-up Harry Madden
Senior Tennis Champion: Manus Heenan and runner-up Stevie Ryan